ASHER by Michelle Smith: Cover Reveal
COVER REVEAL
Title: Asher
Series: A Wesley Brothers Novel #3
Author: Michelle Smith
Release Date: July 19, 2018
Cover Design by Shanoff Designs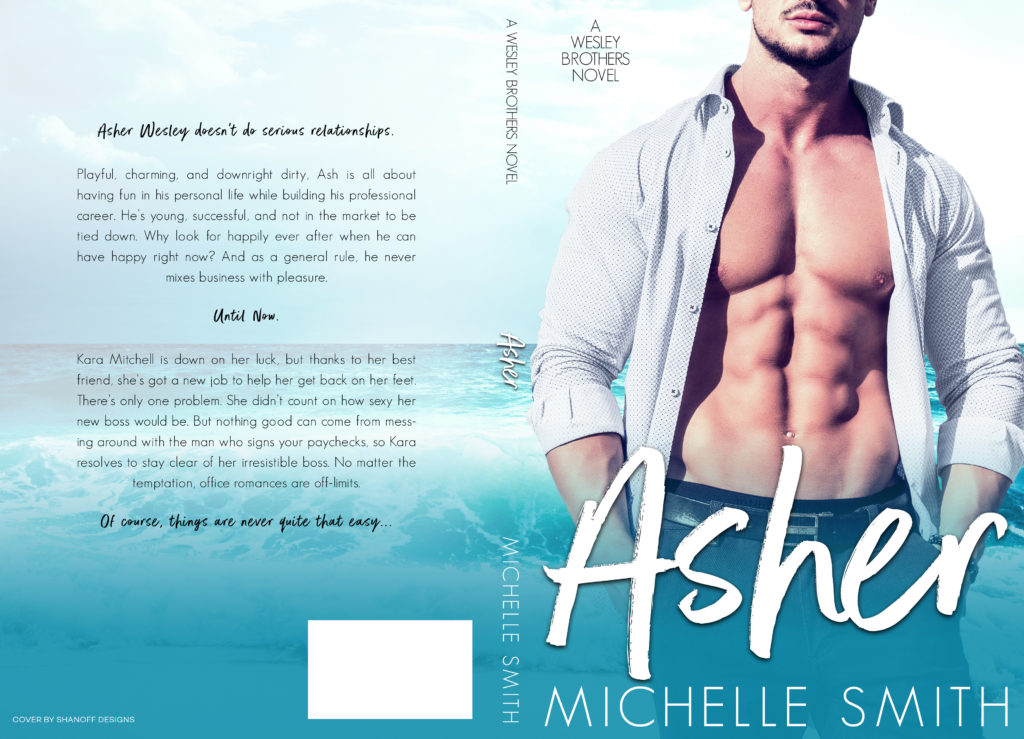 Asher Wesley doesn't do serious relationships.
Playful, charming, and downright dirty, Ash is all about having fun in his personal life while building his professional career. He's young, successful, and not in the market to be tied down. Why look for happily ever after when he can have happy right now? And, as a general rule, he never mixes business with pleasure.
Until now.
Kara Mitchell is down on her luck, but thanks to her best friend, she's got a new job to help her get back on her feet. There's only one problem. She didn't count on how sexy her new boss would be. But nothing good can come from messing around with the man who signs your paychecks, so Kara resolves to stay clear of her irresistible boss. No matter the temptation, office romances are off-limits.
Of course, things are never quite that easy…
Add Asher to your Goodreads TBR List!
https://www.goodreads.com/book/show/38621896-asher
Start the series from the beginning!
Cade
A Wesley Brothers Novel #1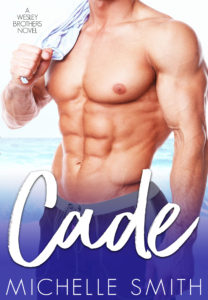 Amazon US: https://amzn.to/2MBr85c
Amazon UK: http://amzn.to/2sb2xJD
Amazon CA: http://amzn.to/2rR40Wg
Amazon AU: http://amzn.to/2uWg50X
*FREE IN KINDLE UNLIMITED*
Sloan
A Wesley Brothers Novel #2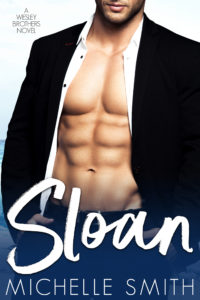 Amazon US: http://amzn.to/2hAiYw7
Amazon UK: http://amzn.to/2z0ymJ7
Amazon CA: http://amzn.to/2g2kYN9
Amazon AU: http://amzn.to/2gv4iyA
FREE in Kindle Unlimited
Author Bio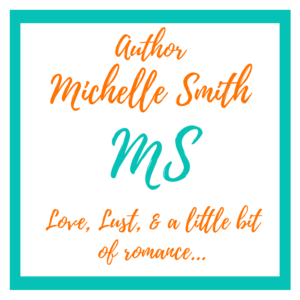 For as long as she can remember, Michelle Smith has been making up romantic stories in her head, but it wasn't until this year that she finally became brave enough to publish them.
If she's not reading or writing, you can be sure she's watching her beloved Dallas Stars somewhere, or any of the numerous other sports she likes to watch. She currently lives in Big D (that's Dallas, Texas for those who don't know) with her wonderful husband and children.
Author Links
★Amazon Author Page: amazon.com/author/ms_writes
★Website: www.authormichellesmith.com
★ Newsletter: https://www.authormichellesmith.com/newsletter
★Facebook Author Page: https://www.facebook.com/AuthorMSWrites/
★Twitter: https://twitter.com/AuthorMS_Writes
★Instagram: instagram.com/authormichellesmith
★Goodreads: https://www.goodreads.com/AuthorMichelleSmith
★ Bookbub: http://bit.ly/2uq4h4e
★Reader's Group:
Comments
comments