HARD TO HANDLE by K. Bromberg: Release Blitz, Teasers & Mary's Review

Hard to Handle, book one in the Play Hard series, an all new series of standalone books by New York Times bestselling author, K. Bromberg, is LIVE!
At first, the request seemed simple—sign a new athlete to the agency.
Then I found out the new athlete was none other than the most wanted man in hockey today: Hunter Maddox
Gifted. Sexy. At the top of his game. And the only man who has ever broken my heart.
If signing him will help save our family business, I'll swallow my pride and do what's asked.
But when it becomes clear his uncharacteristic antics off the ice are a hint of something deeper, keeping things strictly professional between us becomes more than complicated.
But I know better than to cross that line.
I'll never date a client. Not even for him.
***
Win the Stanley Cup and do it before time runs out.
Not a small feat, but it's what's motivated me since the start of my career.
And time is running out.
Enter Dekker Kincade.
Feisty. Dogged. Damn gorgeous. The one I let get away.
I have no idea why she's traveling with the team, but hell if resisting her is going to be easy.
But I have a job to do, and I refuse to lose sight of that end game. Even if she confuses me. Even if she sees parts of me I've hidden from the world.
I can't lose focus. Not even for her.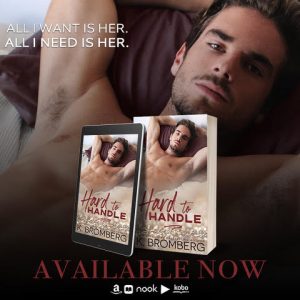 Download today!
Amazon: https://amzn.to/3glG6vM
Amazon Worldwide: http://mybook.to/HardtoHandleKB
Apple Books: https://apple.co/3d3h9TK
Nook: https://bit.ly/2M0Vqjr
Kobo: https://bit.ly/3bZhDZO
Google Play: https://bit.ly/36uLzf8
Goodreads: https://bit.ly/2LWC3YW
MARY's 5 STAR REVIEW
PERFECTION, from beginning to end!!
Once again Kristy has left me in total awe of her ability to weave a story that not only captures your heart but leaves a little piece of the story with you!! Hard to Handle will not only steal your breath but leave you needing more! The feels. The emotions. The angst! Heartbreaking at times but just so quintessential Bromberg that you know you will feel sated and your heart full!
Hard to Handle is a sports romance with a bit of a twist. It starts with the Kincade sisters meeting with their dad to discuss the family business, or lack thereof. After having the competition steal clients from Kincade Sports Management it is time to act to save the business. Divvying up the prospective new clients everything is rolling along until it gets to Dekker. When Dekker has a bomb dropped in her lap. Her Dad assigns her to recruit Hunter Maddox!! The same Hunter Maddox she has history with. The man that broke her heart 3 years earlier that left her walking away from him. But Dekker pulls on her big girl panties and reluctantly accepts the assignment.
There is so much I loved Dekker's character! She is the oldest of four Kincade sisters, gorgeous, full of sass, could give as good as she gets and dedicated to the family business. Even with the tough exterior at times she at times wears her heart on her sleeve. So how she will she protect her heart when she is around Hunter?
Now let us talk Hunter Maddox. Cocky, alpha, chiseled, with a smirky smile that melts panties. He is a hockey god on ice, two-time MVP, at the top of his game, Captain of his team, breaking records, leading his team on their way to win the Stanley Cup. Yet, in spite of all of his accolades, he is a man with a temper, a man who is losing focus, a man who has the weight of the world on his shoulders. Problem is he that while it is evident to teammates and staff that something is going on, he does not see it.
Hunter:
"All man. All arrogance, with a hint of boy beneath the surface who's living out his dream."
Then Dekker shows up to travel with the team. She there to check up on her other client and figure out what is going on with Hunter. To break through the barrier that has him spinning so out of control and how to reel him in. Needless to say, it leaves Hunter not only confused but stumped why she is there. And you know it is not going to take long for Hunter to find her. And find her he does at the aftergame hangout. Sitting at the far end of the bar from him talking with one of her clients. Yep, you know exactly how this is going down. Cornering Dekker for a little tit for tat…
the fun begins.
Dekker:
"She's elegant but feisty, gorgeous but unassuming, composed but so damn infuriating…
and nothing if not all business."
Now that the inevitable has happened Dekker struggles with being present and professional while dealing with unresolved feeling she has for Hunter. What makes it harder is the aura that surrounds Hunter with sadness. Though the sexual tension is obvious neither let their guard down… at least not until they are back at the hotel. When a quick tryst on the way up the elevator ends with a sudden rebuff of Dekker with Hunter walking away this time. Payback's a biotch!
Still reeling from the elevator incident Dekker continues her plan to befriend Hunter. Attempting to figure out how she can get through to him so he can find some peace again. Making this even more difficult was the conflict between her true feelings and being professional. How could she help Hunter but still maintain her role as a recruiting sports agent? Especial when they are like freaking dynamite together!!
This is an absolute smoking hot second chance romance. Filled with lots of heat and surprises.
Plus a super satisfying and emotional double Epilogue.
#Sorrynotsorry #Colton #Jack but Hunter is my #1 Bromberg BBF!!
Definitely ONE CLICK this one!!
"Giving half a heart is akin to giving someone a broken heart… so give them your whole one instead."
#StickSkillFinesse #Madman #Tennisballs #Snowangels #Truth #Maddox
Meet K. Bromberg: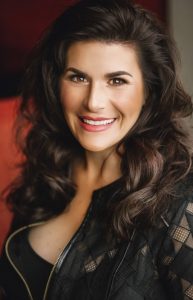 New York Times Bestselling author K. Bromberg writes contemporary romance novels that contain a mixture of sweet, emotional, a whole lot of sexy, and a little bit of real. She likes to write strong heroines and damaged heroes who we love to hate but can't help to love.
A mom of three, she plots her novels in between school runs and soccer practices, more often than not with her laptop in tow and her mind scattered in too many different directions.
Since publishing her first book on a whim in 2013, Kristy has sold over one and a half million copies of her books across eighteen different countries and has landed on the New York Times, USA Today, and Wall Street Journal Bestsellers lists over thirty times. Her Driven trilogy (Driven, Fueled, and Crashed) is currently being adapted for film by the streaming platform, Passionflix, with the first movie (Driven) out now.
With her imagination always in overdrive, she is currently scheming, plotting, and swooning over her latest hero. You can find out more about him or chat with Kristy on any of her social media accounts.
Connect with K. Bromberg:
Facebook: https://bit.ly/3daL3pq
Pinterest: https://bit.ly/3c51HoI
Instagram: https://bit.ly/3d74SxD
Twitter: https://bit.ly/3gpnOd1
Bookbub: https://bit.ly/2XvMI21
Website: www.KBromberg.com
Subscribe to her newsletter: http://bit.ly/254MWtI
Comments
comments