MARY'S TOP TWENTY BOOKS FOR 2016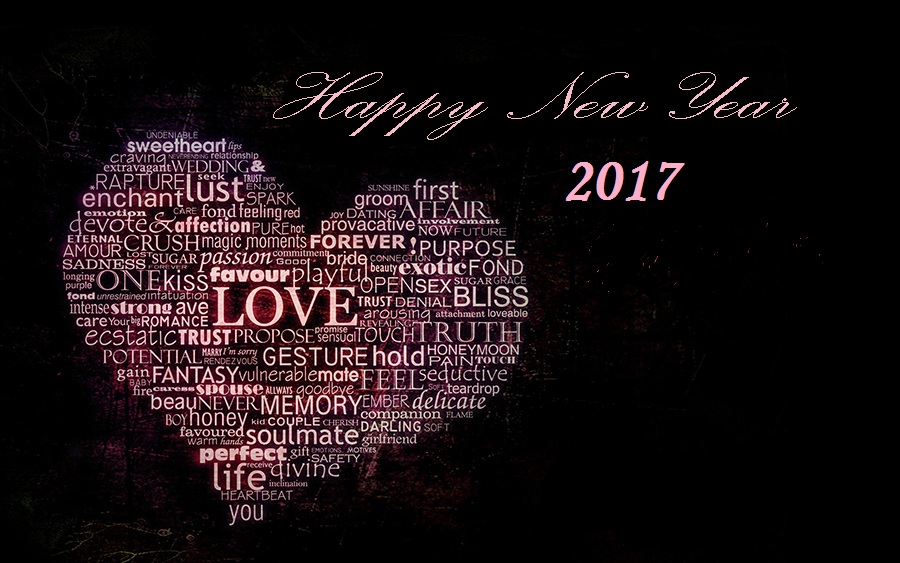 Geez, how do I even stop at twenty?
There were so many really great books this year I found it really hard to limit it to just twenty!!  Below in no particular order are just a smidgen of what I have to share with you.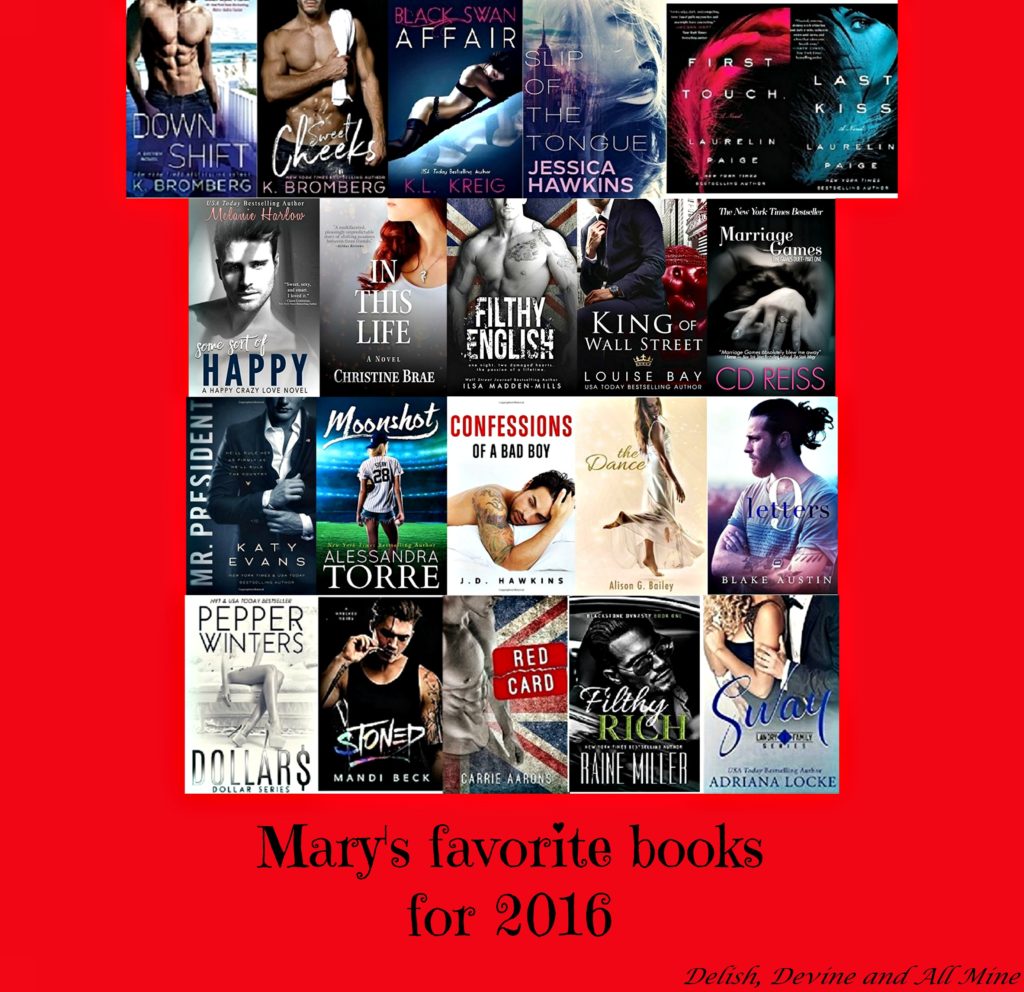 ===========================================================================
K. Bromberg is one of my very favorite Authors!  It was impossible for me to pick between DOWN SHIFT and SWEET CHEEKS …. so they are both on here!
DOWN SHIFT –  We all feel in love with Zander in the Driven Series, so it was perfect that his story was the final book of the series.  Grown up we got to see the man that Zander  had become and loved him even more.
SWEET CHEEKS – was Kristy's departure from the Driven Series.  A second chance at love that is incredibly funny, and sexy and sweet.  Two characters that will steal your heart and make you smile at the same time.  One of those love stories that will leave you feeling all warm, fuzzy and  tingly.
***
BLACK SWAN AFFAIR – KL Kreig – OMGosh, this book!!  What happens when the guy you've loved all your life marries your sister?  If you are looking for an angsty, emotional and hot as hell book…this one is it.
***
SLIP OF THE TONGUE –   Jessica Hawkins was a new Author for me in 2016 <– see I said, was?  I love her books and SOTT is a forbidden romance with a tons of wicked hot sex and a bit of a triangle too.  Just when you think you know what is going to happen there's a twist!
***
First Touch/Last Kiss, this is a duet – Laurelin Paige blew me away with this duet!  It's full of suspense, secrets and hot, hot, hot sex.  And then there is Reeves…enough said!!  Not only is Reeves deliciously naughty he has a darkness that totally keeps you wondering.
***
SOME KIND OF HAPPY – Melanie Harlow's Sebastian stole my heart!  This is a second chance story of two damaged people who hadn't seen each other in 10 years.  Oh my word if these two were not pretty explosive together too.  But could the heat between them lead to something more.
***
In This Life – WOW…. what an epic read!  In This Life is an emotional, gut-wrenching story of the lives of three people. Their lives intertwined in this beautifully written story full of lust, love and secrets of omission. You will undoubtedly fall in love with all three of them.  I have no doubt that I will be watching for Christine Brae's future books.
***
Filthy English – Ilsa Madden-Mills was a new Author for me in 2016 and I loved Filthy English!  A jilted bride, a dirty talking Englishman, one night at a masquerade club and waking up with that man.  But what happens when it registers that this is the same man who broke your heart several years earlier?  Plenty of hot, sexy times along with lots of laugh out loud moments.  Be sure to have your tissues handy as you're sure to shed a few tears.
***
KING OF WALL STREET – This is undoubtedly one of the best books I've read this year.  Louise Bay's KOWS is sexy, smart, has a gosh-darn protective single dad ~ sigh ~ and two exceedingly uptight Type-A personalities who work together.   Awww, just wait to see what happens once it's discovered that  the Bossman lives upstairs.
***
Marriage Games – C.D. Reiss…do I need to say anything else?  Marriage Games is the first book of The Games Duet.  A marriage that's falling apart.  A husband who wants 30 days, alone and away with his wife to recapture who he had been.  A wife who wants a divorce but also wants the business they built together.  Put the three above together and you will not be able to put this book down.
***
Mr. President – Gah, Katy Evans political romance was a perfect diversion from the real thing .  Childhood acquaintances, a promise and calling in that promise years later to work for a Presidential campaign.   When these two reunite they pour their heart and soul into this campaign.  So much so that it was impossible for their white hot chemistry to not meld into their personal lives.
***
MOONSHOT – Alessandria Torre's Moonshot is one of those books that you can't and won't put down until you finish it. Moonshot was so much more than just a love story. It's a story of first love, forbidden love and second chances, with a healthy dose of sports, suspense and OMG. Not only does it run the full gamut of emotions but you are totally invested in this story from the get-go.
***
CONFESSIONS OF A BAD BOY – JD Hawkins has fast become one of my favorite Authors!  His books always seem to have a BAD BOY but always with a big heart.  COABB has a little bit of taboo, BF little sister, with a one night stand kind of guy.  Oh, I almost forgot to mention he has an online V-log… with it's  hot mess of topics from his own sexual  observations and experiences.  Guaranteed to make you laugh as well has your heart flutter!
***
THE DANCE – The Dance is a heartfelt, gut wrenching, emotional read. Allison G. Bailey's book, The Dance, has so much depth and layer upon layer of story it keeps you on the edge of your seat.  The book is about three people…a triangle of sorts, a nightmare of epic proportion with cracks and fissures that finally becomes a landslide.  Your world as you know it is no longer.  Then you see a person from your past, from that one magical night, with that same sexy smile. All of a sudden there is light and possibilities, yet is there a chance.
***
9 LETTERS –  Blake Austin's debut book, caught me so off guard.  It was the heartbreaking story about a man who lost his wife to cancer.  His life empty, dark and meaningless, his grief beyond comprehension, the loneliness deafening. Going through the motions of living yet barely getting by, filling his life with a bottle of booze and at times meaningless sex.  On the one year anniversary of his wife's death he finds a box with nine letters.  These letters will change his life.
***
DOLLARS – Pepper Winters is the Queen of dark and twisted.  Dollars is the second book in the Dollars Series.  The heroine finds herself rescued from her previous captor. While recovering from the torturous injuries received earlier she is once again a captive of sorts on a ship.  The difference this time is that she was not being tortured.  This story for the two is just beginning and I for one can not wait to see what Pepper has planned for them.
***
STONED – Stoned totally blew me away! There was nothing, and I mean nothing that I didn't just flippin love. Mandi Beck did one hell of a job writing one of the most powerful, gut wrenching stories of addition and healing that I have ever read. A second chance story with a whole lot of twisty turns. It touched my heart on so many levels. A rock star who succumbs to the lure of a high of too much drugs, booze and women.  Then the woman of his life just walks out.
***
RED CARD –  Carrie Aarons Red Card is a steamy, sexy book of a woman who lands her dream job in London and a smoking hot footballer.  Finding herself assigned to clean up the reputation of a British bad boy and football player.  Even her tough girl attitude can only do so much for his dirty talking, don't give a f*#@ attitude. But wouldn't you know that it only made her more irresistible for him.  You'll love their banter and holy Toledo the chemistry is off the charts!!
***
FILTHY RICH – Filthy Rich is a steamy, sexy, beautifully written romance. One that I could not put down!  It's about a filthy rich, strikingly handsome, hot as hell man who knows how to treat a lady well.  Absolutely panty melting, leaving you wanting more. ~sigh Raine Miller did not disappoint in FR.
***
SWAY – Adriana Locke's first book in the Landry Series is pure romance.  Sexy and sweet, yet filled with a ton of angst … and OMG the feels.  Gah!!!!  What does an man who is running for Governor and a woman who is trying to escape a failed marriage and the political scandal of her ex-husband have in common?  An attraction that is indisputable and chemistry that is out of this world.  Umm, and I might mention that you will never think of grapes the same again!
===========================================================================
LOOKING AHEAD to 2017

Comments
comments